Anthology, Criticism/Theory
First Edition
Softcover
150 pages
24 x 22 cm
Texts in French
New
EUR 70
ORDER
Lionel Bovier, Christophe Cherix, L'irrésolution commune d'un engagement équivoque. Ecart, Genève 1969–1982, mamco, 1997
L'histoire de l'art n'aime pas les groupes. Elle préfère les héros solitaires. Il lui faut de grands artistes, d'irréductibles individualités : trajectoires singulières, étoiles fixes, chefs-d'œuvre intemporels. Authenticité, sérieux, sincérité, originalité, cohérence, identité, continuité sont quelques-unes des vertus cardinales de son idéologie latente. Le collectif, le contagieux, l'échangisme, l'anonymat, l'éphémère, le négligé, l'erratique, le gratuit, l'infime, le divers, le multiple, l'indiscernable, le je-ne-sais-quoi et le presque-rien, le je-ne-sais-pourquoi et le presque-trop, l'insituable, l'infantile, le farfelu, la confusion des genres, le sans queue ni tête appliqué, le minutieux en vain, l'accumulé en pure perte, les loisirs de la poste, la promenade, le lacunaire, l'indiqué en passant, les désinvolte-face, les conversations inconservables, les bribes, le banal, l'ambigu, le bien imité, les dénégations de pouvoir, les délégations d'impouvoir, les stratégies du plus petit décalage commun, l'« infra-mince » vu au téléscope, les tactiques d'indifférence, le quotidien à géométrie variable, le thé à toute heure, les éternités parallèles, l'interchangeable généralisé, etc. – autant de trous noirs du discours historiographique dominant. D'où l'opportunité, par exemple, de cette première enquête méthodique sur l'un des confettis de l'empire invisible de l'art expérimental dans les années soixante-dix : Ecart, groupe (au moindre sens du terme) d'activistes de l'inutile, ayant sévi à Genève et ailleurs dans le monde, entre 1969 et 1982.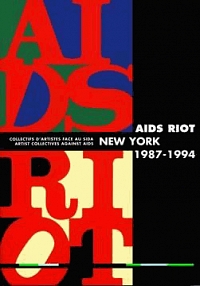 Criticism/Theory, Source Book
First Edition
Soft cover, perfect binding
316 pages
24 x 17 cm
Texts in French / English
New
EUR 20
ORDER
Fabrice Stroun, Lionel Bovier, AIDS RIOT NEW YORK 1987–1994: Artist Collectives Against AIDS, Magasin, 2003
The rise of AIDS in New York during the '80s caused and unprecedented social crisis. Catastrophic management of the epidemic by public authorities and the media magnified the scale of the tragedy. In reaction to the stigmatization and discrimination of the groups affected by the disease, strategies of resistance sprung out from various levels of civic society. AIDS RIOT focuses of a series of collective responses originating from the field of contemporary art. From the appropriation of advertising campains by Gran Fury to the virus-like circulation of General Idea's AIDS logo, and from Group Material's pedagogical exhibitions to the 'guerilla' videos by Testing the Limits, artist collectives reestablished the proactive role of art – as a vector for social change – and profoundly changed the shape of cultural activism. AIDS RIOT concentrates on the period from 1987 to 1994, when questions of efficient methods and modes of addresses were debated with an unprecedented clarity.
This publication gathers a selection of texts and documents central to the debates of the era, notably by Douglas Crimp, David Deitcher, General Idea, Gran Fury, Group Material, as well as new interviews with Julie Ault, Gregg Bordowitz, AA Bronson, Donald Moffett and Marlene McCarty.
The positions highlighted in AIDS RIOT question the forumula for a successful articulation of theory and practice from and within a given cultural scene. In a time of growing estheticization of the political and increasing nostalgia for social commitment, this anthology points towards the kinds of discourses and relation to power and dominant representations cultural practices should develop in order to be truly active today.
AIDS RIOT is a research project conceived and edited by the 12th Session of the École du Magasin, Curatorial Studies Program of the Centre National d'Art Contemporain de Grenoble: Caroline Engel, Nicolas Fenouillat, Aurélie Guitton, Benedetta di Loreto, Flora Loyau, Ivana Mestrov and Ana Olszewska, supervised by Lionel Bovier and Fabrice Stroun.