Criticism/Theory
First Edition
Paperback
232 pages
Texts in English
New
EUR 19
ORDER
Franco "Bifo" Berardi, The Soul at Work: from Alienation to Autonomy, Semiotext(e), 2009
In this, his newest book, Franco "Bifo" Berardi—key member of the Italian Autonomist movement and a close associate of Félix Guattari—addresses these new forms of estrangement. In the philosophical landscape of the 1960s and 1970s, the Hegelian concept of alienation was used to define the harnessing of subjectivity. The estrangement of workers from their labor, the feeling of alienation they experienced, and their refusal to submit to it became the bases for a human community that remained autonomous from capital. But today a new condition of alienation has taken root in which workers commonly and voluntarily work overtime, the population is tethered to cell phones and Blackberries, debt has become a postmodern form of slavery, and antidepressants are commonly used to meet the unending pressure of production. As a result, the conditions for community have run aground and new philosophical categories are needed. The Soul at Work is a clarion call for a new collective effort to reclaim happiness.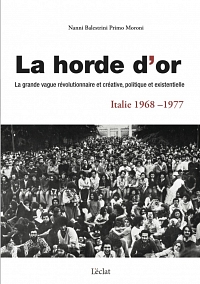 Histoire, Political theory
First Edition
Hardcover
672 pages
Texts in French
New
EUR 32
ORDER
Primo Moroni, Nanni Balestrini, La horde d'or. Italie 1968-1977, L'éclat, 2017
La horde d'or. Italie 1968-1977
La grande vague révolutionnaire et créative, politique et existentielle

Livre d'histoires et d'analyses politiques, compilation de documents, tracts, chansons, articles de revues ou manifestes, témoignages à la première personne et au jour le jour d'une révolte, devenue «transformation radicale de la vie quotidienne, utopie, besoin de communisme, révolution sexuelle, lutte armée, etc. », La horde d'or est un ouvrage de grande ampleur qui parcourt l'histoire politique italienne, depuis les prémisses des années 60 jusqu'à la fin des années 70, qui verront s'exténuer les espérances et les jubilations d'une génération « outrageusement » enthousiaste. Ouvrage transgenre ou transversal, La horde d'or permet de combler un « manque d'histoire » de la fin du XXe siècle, et apporte une information de première main et de première importance sur dix années qui ébranlèrent non seulement l'Italie, mais également l'Europe, et dont l'actualité resurgit, près d'un demi-siècle plus tard, dans les mouvements et les luttes du jeune XXIe siècle, pour signifier l'inanité des réponses institutionnelles qui ont été apportées à la crise « créative, politique et existentielle » à laquelle nous sommes confrontés.