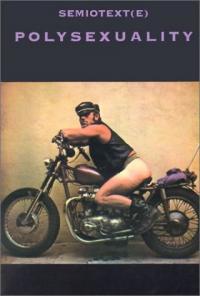 Anthology, Fiction
Second Edition
Soft cover, perfect binding
300 pages
Texts in English
New
EUR 32
out of stock
François Peraldi, Polysexuality (Semiotext(e) #10), Semiotext(e), 1995
Originally conceived as a special Semiotext(e) issue on homosexuality at the end of the 70s, "Polysexuality" quickly evolved into a more complex and iconoclastic project whose intent was to do away with recognized genders altogether, considered far too limitative. The project landed somewhere between humor, anarchy, science-fiction, utopia and apocalypse. In the few years that it took to put it together, it also evolved from a joyous schizo concept to a darker, neo-Lacanian elaboration on the impossibility of sexuality. The tension between the two, occasionally perceptible, is the theoretical subtext of the issue. Upping the ante on gender distinctions, "Polysexuality" started by blowing wide open all sexual classifications, inventing unheard-of categories, regrouping singular features into often original configurations, like Corporate Sex, Alimentary Sex, Soft or Violent Sex, Discursive Sex, Self- Sex, Animal Sex, Child Sex, Morbid Sex, or Sex of the Gaze. Mixing documents, interviews, fiction, theory, poetry, psychiatry and anthropology, "Polysexuality" became the encyclopedia sexualis of a continent that is still emerging. What it displayed in all its forms could be called, broadly speaking, the Sexuality of Capital. (Actually the issue being rather hot, it was decided to cool it off somewhat by only using "capitals" throughout the issue. It was also the first issue for which we used the computer).
Includes work by Alain Robbe-Grillet, Félix Guattari, Paul Verlaine, William S.Burroughs, Georges Bataille, Pierre Klossowski, Roland Barthes, Paul Virilio, Peter Lamborn Wilson, and more.
Fiction
First Edition
Paperback
216 pages
Texts in French
Normal used condition
EUR 20
out of stock
Alain Robbe-Grillet, La maison de rendez-vous, Les éditions de minuit, 1965
Le 18 août 1922, Edouard Manneret meurt à Hong-Kong dans des circonstances énigmatiques. Le fait qu'il ait été assassiné ne laisse pratiquement de doute à personne. Mais quel sont les mobiles du crime ? Selon quel scénario s'est-il accompli ? Quelle est l'identité réelle du meurtrier ? Un narrateur obstiné essaie de reconstituer ce qui s'est passé ce soir-là à la Villa Blue, maison de jeu, de spectacle et de prostitution.
La personnalité de ce narrateur, malheureusement, semble poser aussi quelques problèmes.

On August 18, 1922, Edouard Manneret dies in Hong-Kong in mysterious circumstances. The fact that he was murdered is obvious to everyone. But what are the crime's motives? Under what scenario was it played? Who is the real murderer? A stubbordn narrator tries to bring together again what happened on that night at Villa Blue, gambling den and brothel. Unfortunately, the personnality of the narrator seems to cause several issues.