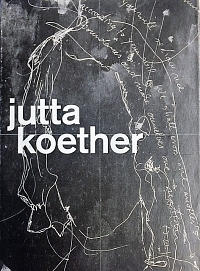 Exhibition catalogue, Monograph
Hardcover
183 pages
24 x 17 cm
Texts in English / German
Used cover
EUR 90
ORDER
Coll., Jutta Koether, Kunsthalle Bern, DuMont Literatur, 2006
Jutta Koether's translucent color fields, expressive brushstrokes and female subjects--as well as her use of poetry, art history and Mylar--can make her seem like a feminist answer to the Cologne art scene, a counterpart to artists like Martin Kippenberger, Sigmar Polke and Albert Oehlen. In fact, she is a central contemporary painter in her own right, as well as a performance artist, a musician and a critic. She collaborates musically with Sonic Youth's Kim Gordon and Television's Tom Verlaine, contributes regularly to Artforumand the respected German culture magazine Spex, and teaches in Bard College's MFA program--and has recently shown her work at Reena Spaulings Fine Art and Thomas Erben Gallery in New York. Koether's work, which the New York Timeshas called "vibrant" and "intriguing," was a standout in the 2006 Whitney Biennial. This look back documents the artist's oeuvre from the mid-80s forward, with an extensive selection of images.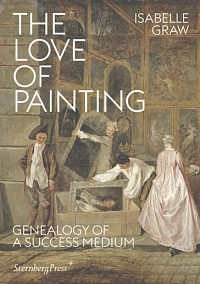 Essays on art
First Edition
Softcover
364 pages
20 x 14 cm
Texts in English
New
EUR 25
ORDER
Isabelle Graw, The Love of Painting. Genealogy of a Success Medium, Sternberg Press, 2018
Painting seems to have lost its dominant position in the field of the arts. However, looking more closely at exhibited photographs, assemblages, installations, or performances, it is evident how the rhetorics of painting still remain omnipresent. Following the tradition of classical theories of painting based on exchanges with artists, Isabelle Graw's The Love of Painting considers the art form not as something fixed, but as a visual and discursive material formation with the potential to fascinate owing to its ability to produce the fantasy of liveliness. Thus, painting is not restricted to the limits of its own frame, but possesses a specific potential that is located in its material and physical signs. Its value is grounded in its capacity to both reveal and mystify its conditions of production. Alongside in-depth analyses of the work of artists like Édouard Manet, Jutta Koether, Martin Kippenberger, Jana Euler, and Marcel Broodthaers, the book includes conversations with artists in which Graw's insights are further discussed and put to the test.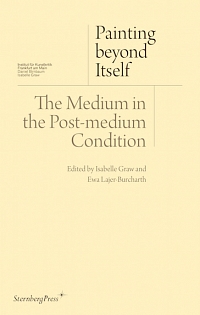 Criticism/Theory
First Edition
Softcover
286 pages
19 x 12 cm
Texts in English
New
EUR 16
ORDER
Isabelle Graw, Ewa Lajer-Burcharth, Painting beyond Itself: The Medium in the Post-medium Condition, Sternberg Press, 2016
In response to recent developments in pictorial practice and critical discourse, Painting beyond Itself: The Medium in the Post-medium Condition seeks new ways to approach and historicize the question of the medium. Reaching back to the earliest theoretical and institutional definitions of painting, this book—based on a conference at Harvard University in 2013—focuses on the changing role of materiality in establishing painting as the privileged practice, discourse, and institution of modernity. Myriad conceptions of the medium and its specificity are explored by an international group of scholars, critics, and artists. Painting beyond Itself is a forum for rich historical, theoretical, and practice-grounded conversation.

Contributions by Carol Armstrong, Benjamin H. D. Buchloh, Sabeth Buchmann, René Démoris, Isabelle Graw, David Joselit, Jutta Koether, Ewa Lajer-Burcharth, Jacqueline Lichtenstein, Julie Mehretu, Matt Saunders, Amy Sillman.