Criticism/Theory
Paperback
293 pages
Texts in English
New
EUR 26
ORDER
Gilles Deleuze, Leopold von Sacher-Masoch, Masochism. Coldness and Cruelty & Venus in Furs, Zone Books, 1991
In his stunning essay, Coldness and Cruelty, Gilles Deleuze provides a rigorous and informed philosophical examination of the work of the late 19th-century German novelist Leopold von Sacher-Masoch. Deleuze's essay, certainly the most profound study yet produced on the relations between sadism and masochism, seeks to develop and explain Masoch's "peculiar way of 'desexualizing' love while at the same time sexualizing the entire history of humanity." He shows that masochism is something far more subtle and complex than the enjoyment of pain, that masochism has nothing to do with sadism; their worlds do not communicate, just as the genius of those who created them - Masoch and Sade - lie stylistically, philosophically, and politically poles a part. Venus in Furs, the most famous of all of Masoch's novels was written in 1870 and belongs to an unfinished cycle of works that Masoch entitled The Heritage of Cain. The cycle was to treat a series of themes including love, war, and death. The present work is about love. Although the entire constellation of symbols that has come to characterize the masochistic syndrome can be found here - fetishes, whips, disguises, fur-clad women, contracts, humiliations, punishment, and always the volatile presence of a terrible coldness - these do not eclipse the singular power of Masoch's eroticism.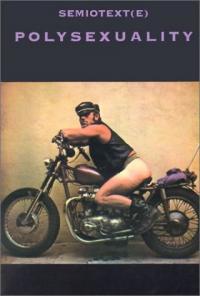 Anthology, Fiction
Second Edition
Soft cover, perfect binding
300 pages
Texts in English
New
EUR 32
out of stock
François Peraldi, Polysexuality (Semiotext(e) #10), Semiotext(e), 1995
Originally conceived as a special Semiotext(e) issue on homosexuality at the end of the 70s, "Polysexuality" quickly evolved into a more complex and iconoclastic project whose intent was to do away with recognized genders altogether, considered far too limitative. The project landed somewhere between humor, anarchy, science-fiction, utopia and apocalypse. In the few years that it took to put it together, it also evolved from a joyous schizo concept to a darker, neo-Lacanian elaboration on the impossibility of sexuality. The tension between the two, occasionally perceptible, is the theoretical subtext of the issue. Upping the ante on gender distinctions, "Polysexuality" started by blowing wide open all sexual classifications, inventing unheard-of categories, regrouping singular features into often original configurations, like Corporate Sex, Alimentary Sex, Soft or Violent Sex, Discursive Sex, Self- Sex, Animal Sex, Child Sex, Morbid Sex, or Sex of the Gaze. Mixing documents, interviews, fiction, theory, poetry, psychiatry and anthropology, "Polysexuality" became the encyclopedia sexualis of a continent that is still emerging. What it displayed in all its forms could be called, broadly speaking, the Sexuality of Capital. (Actually the issue being rather hot, it was decided to cool it off somewhat by only using "capitals" throughout the issue. It was also the first issue for which we used the computer).
Includes work by Alain Robbe-Grillet, Félix Guattari, Paul Verlaine, William S.Burroughs, Georges Bataille, Pierre Klossowski, Roland Barthes, Paul Virilio, Peter Lamborn Wilson, and more.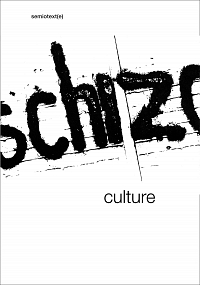 Criticism/Theory, Source Book
240 pages
Texts in English
New
EUR 42
ORDER
Sylvère Lotringer, David Morris, Schizo-Culture, 2 vol. set (The Event, The Book), Semiotext(e), 2014
The legendary 1975 "Schizo-Culture" conference, conceived by the early Semiotext(e) collective, began as an attempt to introduce the then-unknown radical philosophies of post-'68 France to the American avant-garde. The event featured a series of seminal papers, from Deleuze's first presentation of the concept of the "rhizome" to Foucault's introduction of his History of Sexuality project. The conference was equally important on a political level, and brought together a diverse group of activists, thinkers, patients, and ex-cons in order to address the challenge of penal and psychiatric institutions. The combination proved to be explosive, but amid the fighting and confusion "Schizo-Culture" revealed deep ruptures in left politics, French thought, and American culture.

The "Schizo-Culture" issue of the Semiotext(e) journal came three years later. Designed by a group of artists and filmmakers including Kathryn Bigelow and Denise Green, it documented the chaotic creativity of an emerging downtown New York scene, and offered interviews with artists, theorists, writers, and No Wave and pre-punk musicians together with new texts from Deleuze, Foucault, R. D. Laing, and other conference participants.
This slip-cased edition includes The Book: 1978, a facsimile reproduction of the original Schizo-Culture publication; and The Event: 1975, a previously unpublished and comprehensive record of the conference that set it all off. It assembles many previously unpublished texts, including a detailed selection of interviews reconstructing the events, and features Félix Guattari, William Burroughs, Kathy Acker, Michel Foucault, Sylvère Lotringer, Guy Hocquenghem, Gilles Deleuze, John Rajchman, Robert Wilson, Joel Kovel, Jack Smith, Jean-François Lyotard, Ti-Grace Atkinson, François Peraldi, and John Cage.