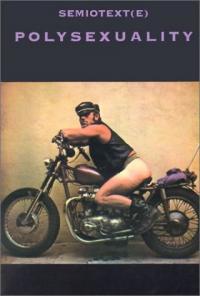 Sexualités, Fiction
Second Edition
Soft cover, perfect binding
300 pages
Texts in English
New
EUR 32
ORDER
François Peraldi, Polysexuality (Semiotext(e) #10), Semiotext(e), 1995
Originally conceived as a special Semiotext(e) issue on homosexuality at the end of the 70s, "Polysexuality" quickly evolved into a more complex and iconoclastic project whose intent was to do away with recognized genders altogether, considered far too limitative. The project landed somewhere between humor, anarchy, science-fiction, utopia and apocalypse. In the few years that it took to put it together, it also evolved from a joyous schizo concept to a darker, neo-Lacanian elaboration on the impossibility of sexuality. The tension between the two, occasionally perceptible, is the theoretical subtext of the issue. Upping the ante on gender distinctions, "Polysexuality" started by blowing wide open all sexual classifications, inventing unheard-of categories, regrouping singular features into often original configurations, like Corporate Sex, Alimentary Sex, Soft or Violent Sex, Discursive Sex, Self- Sex, Animal Sex, Child Sex, Morbid Sex, or Sex of the Gaze. Mixing documents, interviews, fiction, theory, poetry, psychiatry and anthropology, "Polysexuality" became the encyclopedia sexualis of a continent that is still emerging. What it displayed in all its forms could be called, broadly speaking, the Sexuality of Capital. (Actually the issue being rather hot, it was decided to cool it off somewhat by only using "capitals" throughout the issue. It was also the first issue for which we used the computer).
Includes work by Alain Robbe-Grillet, Félix Guattari, Paul Verlaine, William S.Burroughs, Georges Bataille, Pierre Klossowski, Roland Barthes, Paul Virilio, Peter Lamborn Wilson, and more.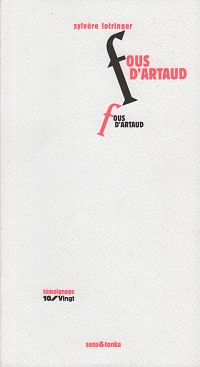 Fiction, Criticism/Theory
First Edition
Softcover
20 x 11 cm
Texts in French
New
EUR 20
ORDER
Sylvère Lotringer, Fous d'Artaud, Sens&Tonka, 2003
Les fous d'Artaud sont-ils aussi fous que lui ? La folie, comme la peste, est contagieuse et tous, psychiatres, disciples, famille, critiques, tous ceux qu'Artaud a approchés, ou qui ont approché Artaud, semblent participer de son délire. Cet ouvrage le montre de diverses manières, la plus saisissante étant sans doute ce qu'Artaud avait nommé un "drame mental" – une confrontation avec les témoins ou «persécuteurs» du poète où se démasque à vif le délire propre à chacun d'eux, et celui de l'auteur lui-même.
Ce livre n'entend pas apporter une strate supplémentaire aux débats qui ont fait rage depuis la mort du poète maudit, ni prendre parti entre les différents camps qui se disputent encore la dépouille d'Artaud ; il parle du lieu où se "travaille" la folie.
Dans un travail commencé depuis plus de vingt ans (Antonin Artaud, New York, Scribner's Son, 1983), Lotringer a interviewé les deux médecins de Rodez qui ont soumis le patient Antonin Artaud aux électrochocs : le directeur de l'hôpital psychiatrique, Gaston Ferdière, et son interne, Jacques Latrémolière.
Enfin, la si contestée – par la famille d'Artaud – Paule Thévenin livre l'identité du fameux 'Dr J. L.' violemment pris à parti par Artaud dans son Van Gogh, le suicidé de la société.