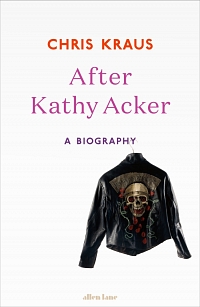 Artists' writings
First Edition
Hardcover
345 pages
24 x 16 cm
Texts in English
New
EUR 26
ORDER
Chris Kraus, After Kathy Acker. A Biography, Allen Lane, 2017
Kathy Acker: Rich girl, street punk, scholar, stripper, victim, media-whore ... and cultural icon.
The late Kathy Acker's legend and writings are wrapped in mythologies, many of them created by her. Twenty years after her untimely death aged just 50, Acker's legend has faded, but her writing has become clearer. A few years ago, the writer Chris Kraus, author of I Love Dick, found that her own experiences were becoming more and more like Kathy's. She began writing about Acker 'through the distance, but with this incredible frisson of feeling that often I could write "I" instead of "she."'
This is 'literary friction': The first fully authorised biography of the avant-garde writer Kathy Acker, by the woman who arrived on the scene straight after her, who shared some of her boyfriends and friends, and her artistic ambitions. Using exhaustive archival research and ongoing conversations with mutual colleagues and friends, Kraus traces the woman behind the notorious novels, and places her at the centre of a kaleidoscopic artistic world.
The path of the female artist. Is hell.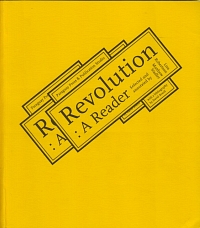 Essays on art
Second Edition
Softcover
1160 pages
Texts in English
New
EUR 30
ORDER
Lisa Robertson, Matthew Stadler, Revolution: A Reader, Paraguay Press, Publication Studio, 2015
Co-published with Publication Studio, Portland, Revolution: A Reader collects texts from across many cultures and times and organizes them roughly along a chronology of living, from "beginning," to "childhood," "education," "adulthood," and "death." The book brings the embodied fact of revolution into the lived present by engaging readers with language that takes us there, no matter where we are to begin with. We are all in revolution, now. Reading can make this fact primary and conscious and shared. Heavily annotated throughout, the book is, quite literally, a conversation. The annotations, by Lisa Robertson and Matthew Stadler — composed simultaneously and in response to one another — stitch a web of argument that links the book into a single thing, a reader. The book also features a narrative bibliography of revolution by David Brazil.
With texts by Kathy Acker, Etel Adnan, Vivienne Westwood, Dodie Bellamy, David Brazil, Edmund Burke, Mina Loy, Mahmoud Darwish, Oscar Wilde, Guy Davenport, Angela Davis, Gertrude Stein, Stacy Doris, Hannah Arendt, Saskia Sassen, Frantz Fanon, Shulamith Firestone, Louise Michel, Eileen Myles, Jean Genet, Michel Ragon, Donna Haraway, Oscar Tuazon and many more.
Criticism/Theory, Poetry
First Edition
Paperback
160 pages
Texts in English
New
EUR 18
ORDER
Kathy Acker, McKenzie Wark, I'm Very Into You, Semiotext(e), 2015
I'm Very Into You, Correspondence 1995–1996 between Kathy Acker and McKenzie Wark

"Why am I telling you all this? Partly 'cause the whole queerness/identity thing for me stretches through everything, absolutely everything. Slipping between straight/gay is child's play compared to slipping between writer/teacher/influence-peddler whatever. I forget who I am. You reminded me of who I prefer to be." [M.W.]
"It's two in the morning. . . I know what you mean about slipping roles: I love it, going high low, power helpless even captive, male female, all over the place, space totally together and brain-sharp, if it wasn't for play I'd be bored stiff and I think boredom is the emotion I find most unbearable. . . " [KA]

After Kathy Acker met McKenzie Wark on a trip to Australia in 1995, they had a brief fling and immediately began a heated two-week email correspondence. Their emails shimmer with insight, gossip, sex, and cultural commentary. They write in a frenzy, several times a day; their emails cross somewhere over the International Date Line, and themselves become a site of analysis. What results is an index of how two brilliant and idiosyncratic writers might go about a courtship across 7,500 miles of airspace—by pulling in Alfred Hitchcock, stuffed animals, Georges Bataille, Elvis Presley, phenomenology, Marxism, The X-files, psychoanalysis, and the I Ching.