Artist's book, Anthology
First Edition
Softcover
200 pages
20 x 15 cm
Texts in Deutsch
Upper spine slightly torn
o/w very good condition
EUR 140
ORDER
Dick Higgins, Wolf Vostell, Pop Architektur Concept Art, Droste, 1969
Edited by Dick Higgins and Wolf Vostell, this artist's book/anthology explores the boundaries between pop art and architecture through writings and projects by key artists and thinkers of the 1960s and earlier—from John Cage and Buckminster Fuller to Kurt Schwitters and Joseph Beuys. It will retain the book's unique design, specifically its Mylar inserts, which add unique depth and elaborate the publication's content.

Contains numerous letters, black-and-white photographs. Vellum inserts. All text in German. Book design by Vostell himself. This edition precedes the English edition entitled Fantastic Architecture, published by Something Else Press, 1969.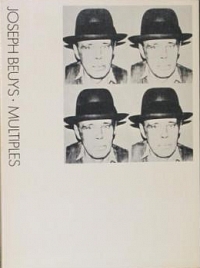 Anthology
Softcover
280 pages
Texts in English
Very good condition
EUR 250
ORDER
Jörg Schellmann, Bernd Klüser, Joseph Beuys. Multiples, New York University Press, 1980
Catalogue raisonné, Multiples and Prints, 1965–1980.

This book documents this entire multiple output of German artist Joseph Beuys. In a conversation with the publishers Beuys indicates his intentions and explains his "extended concept of art" through single works.
Criticism/Theory
Paperback edition
Paperback
200 pages
21 x 14 cm
Texts in English
New
EUR 23
out of stock
John A. Walker, Left Shift: Radical Art in 1970's Britain, I. B. Tauris, 2002
Within twentieth-century art history, the 1970's has been a neglected decade. Left Shift vividly recreates a time when visual artists, under the influence of left-wing politics, women's liberation and the gay movement, were seeking to re-establish a social purpose to their practice.

John A. Walker discusses the work of artists as diverse as Stuart Brisley, Derek Jarman, Mary Kelly, the Art & Language Group, Victor Burgin, Margaret Harrison, Jo Spence and Joseph Beuys.