Criticism/Theory
Bootleg
Staple-bound
42 pages
29 x 21 cm
Texts in French / English
New
EUR 10
out of stock
Seth Price, Dispersion, 2014
"One of the way in which the Conceptual project in art jas been most successful is in claiming new territory for practice. It's a tendency that's been almost too successful: today it seems that most of the work in the international art system positions itself as Conceptual to some degree, yielding the "Conceptual painter", the "DJ and Conceptual artist", or the "Conceptual web artist". Let's put aide the question of what makes a work Conceptual, recognizing, with some resignation, that the term can only gesture toward a thirty year-old historical moment."

English/French bootleg of Dispersion, a text published by Seth Price on his website in 2002.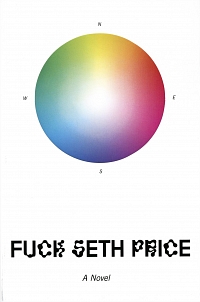 Fiction, Criticism/Theory
First Edition
Soft cover, perfect binding
122 pages
Texts in English
New
EUR 22
out of stock
Seth Price, FUCK SETH PRICE, The Leopard Press, 2015
From one of the most influential artists of his generation comes a provocative, moving novella about what it means to be a creative person under today's digital regime. In the course of a gripping, headlong narrative, Price's unnamed protagonist moves in and out of contemporary non-spaces on a confounding and enigmatic quest, all the while meditating on art in the broadest sense: not simply painting and sculpture but also film, architecture, literature, and poetry. From boutique hotels and highway bridges to PC terminals and off-ramps; from Kanye West and Jeff Koons to George Bush and Patricia Highsmith; from the playground to the internet to the mirror, Price's hybrid of fiction, essay, and memoir gets to the central questions not only of art, but of how we live now.
Artist's book
Bootleg
Staple-bound
76 pages
29 x 42 cm
Texts in English
New
EUR 70
ORDER
Continuous Project, Continuous Project #04, 2004
Reproduction of Monika Sprüth's magazine, Eau de Cologne #01 (1985).
Continuous Project is Bettina Funcke, Wade Guyton, Seth Price and Joseph Logan.
Since 2003 they have adopted a variety of recuperative strategies that are less about nostalgia for (art) history than they are about the status of the material being reintroduced to the present.
Info here: http://www.distributedhistory.com/InNum_ContinuousProject.pdf