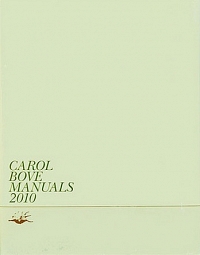 Monograph
First Edition
Hardcover
28 x 22 cm
Texts in English
New
EUR 65
ORDER
Charles Harlan (ed.), Carol Bove: Manuals 2010, The Leopard Press, 2013
Manuals 2010 presents instructions on how to recreate and install Bove's trademark assemblages.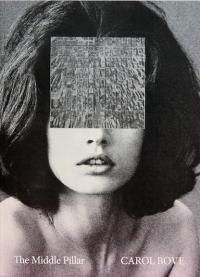 Monograph
First Edition
Softcover
28 pages
Texts in English
New
EUR 26
ORDER
Carol Bove, The Middle Pillar, Karma, 2013
The Middle Pillar: A Retrospective Introduction
In 2004 Carol Bove described her interest in what she called the provocative 'shady places' of display: 'a gradient that starts with a small, personal domestic object and goes through art objects, installation art, site-specific works, environments, installation design, architecture, etc.'. Her use of historical objects and texts belongs to this larger project dedicated to undermining binaries, often the either/or distinctions between site-specific installations and autonomous artworks.
Text by Cathleen Chafee.