Criticism/Theory
Softcover
457 pages
Texts in English
New
EUR 36
ORDER
Mike Kelley, Minor Histories: Statements, Conversations, Proposals, MIT Press, 2004
What John C. Welchman calls the "blazing network of focused conflations" from which Mike Kelley's styles are generated is on display in all its diversity in this second volume of the artist's writings. The first volume, Foul Perfection, contained thematic essays and writings about other artists; this collection concentrates on Kelley's own work, ranging from texts in "voices" that grew out of scripts for performance pieces to expository critical and autobiographical writings.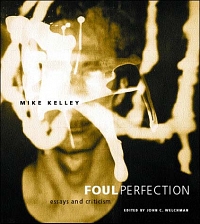 Criticism/Theory
First Edition
Softcover
208 pages
Texts in English
New
EUR 34
out of stock
Mike Kelley, Foul Perfection: Essays and Criticism, MIT Press, 2003
This book offers a diverse collection of Kelley's writings from the last twenty-five years. It contains major critical texts on art, film, and the wider culture, including his piece on the aesthetic he calls "urban Gothic." It also contains essays, mostly commissioned for exhibition catalogs and journals, on the artists and groups David Askevold, Öyvind Fahlström, Douglas Huebler, John Miller, Survival Research Laboratories, and Paul Thek, among others. Kelley's voices are passionate, analytic, and ironic, and his critical intelligence is leavened with touches of whimsy.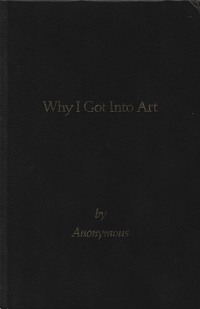 Artist's book
First ed. of 1000 copies
Soft cover, perfect binding
21 x 14 cm
Texts in English / Deutsch
Very good condition
EUR 180
ORDER
Anonymous, Why I Got Into Art (Vaseline Muses), Verlag der Buchhandlung Walther König, Jablonka Gallery, 1991
Artist's book by "Anonymous" aka: Mike Kelley, detailing why he got into art -- naked women. Essay by Diedrich Diederichsen. Contains 22 photographs, in black-and-white, manipulated to have soft-core porn qualities of Yoko Ono, Lynda Benglis, Hannah Wilke, Carolee Schneemann and other woman engaged in nude dance performances, guerrilla actions, happenings, avant-garde theatre, actions, performances, gallery advertisements, body art, gesture art, etc. Published as two entities, back-to-back & upside down from each other, in one volume. Text in English and German.