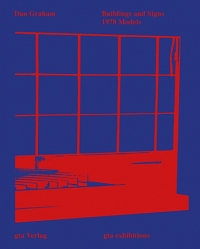 Exhibition catalogue, Monograph
First Edition
Hardcover
88 pages
33 x 26 cm
Texts in English
New
EUR 42
ORDER
Dan Graham, Buildings and Signs 1978 Models, gta Verlag, 2015
Since the 1960s Dan Graham has been one of the most seminal protagonists in conceptual art. With his walk­-through glass Pavilions, he places architecturally de­ signed elements in space, thereby altering the viewer's perceptions of its surround­ ing. The resulting estrangement effect enables the viewer to rediscover and re­ experience spatial dimensions. Among his recent projects is the commission of the Roof Garden on the Metropolitan Museum in New York which was made in cooperation with the landscape architect and ETH professor Günther Vogt. This exhibition at the ETH is the artist's first institutional solo show in Zürich. The publication flesh­ es out Graham's perspective on his model­-like works, in which art and architecture come together.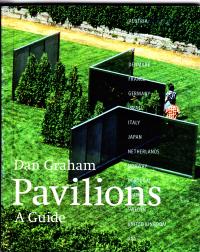 Exhibition catalogue, Monograph
First Edition
Softcover
80 pages
13 x 10 cm
Texts in English
New
EUR 28
ORDER
Dan Graham, Pavilions: a guide, Art Metropole, 2009
Since the '60s, Dan Graham has been making radical work in print, video, performance, and architectural installation. In the late '70s he began designing his pavilions, structures in steel and semi-reflective glass that comment on local architecture and offer rich social moments for people to reflect on the world around them. Compiled by Josh Thorpe, this pocket guide book is a simple guide to the dozens of Graham's pavilions available around the world. Includes an introduction and interview with the artist by Josh Thorpe.
Criticism/Theory
Second Edition
Softcover
224 pages
22 x 18 cm
Texts in English
New
EUR 19
ORDER
Dan Graham, Rock/Music Writings, Primary Information, 2009
Rock/Music Writings collects Dan Graham's influential writings about rock and roll music and its cultural impact. First published in 2009, Rock/Music Writings includes thirteen essays written between 1968 and 1988, most of which were originally printed in small magazines or journals, including Extensions, Fusion, REAL LIFE, and ZG.
Graham was a friend and supporter of many musicians active in the No Wave scene that was centered around New York City in the late '70s. In addition to collaborating with musicians during this period, Graham created "Rock My Religion," a video that demonstrates parallels between rock music culture and religious rituals, such as Shaker dances and revivalist meetings. The work's related text, also titled "Rock My Religion," is included in Rock/Music Writings, along with texts such as "The End of Liberalism," "New Wave Rock and the Feminine," "McLaren's Children," and "Artist as Producer." These texts examine the lyrics and backgrounds of bands like The Beatles, The Kinks, Devo, The Ramones, the Patti Smith Group, the Sex Pistols, and Bow Wow Wow, relating them to consumerism and visual art movements, including Abstract Expressionism and Pop art.