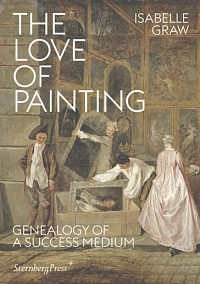 Essays on art
First Edition
Softcover
364 pages
20 x 14 cm
Texts in English
New
EUR 25
ORDER
Isabelle Graw, The Love of Painting. Genealogy of a Success Medium, Sternberg Press, 2018
Painting seems to have lost its dominant position in the field of the arts. However, looking more closely at exhibited photographs, assemblages, installations, or performances, it is evident how the rhetorics of painting still remain omnipresent. Following the tradition of classical theories of painting based on exchanges with artists, Isabelle Graw's The Love of Painting considers the art form not as something fixed, but as a visual and discursive material formation with the potential to fascinate owing to its ability to produce the fantasy of liveliness. Thus, painting is not restricted to the limits of its own frame, but possesses a specific potential that is located in its material and physical signs. Its value is grounded in its capacity to both reveal and mystify its conditions of production. Alongside in-depth analyses of the work of artists like Édouard Manet, Jutta Koether, Martin Kippenberger, Jana Euler, and Marcel Broodthaers, the book includes conversations with artists in which Graw's insights are further discussed and put to the test.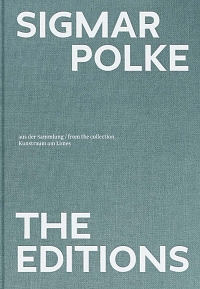 Monograph
First Edition
Softcover
128 pages
Texts in English
New
EUR 35
ORDER
Sigmar Polke, The Editions, Koenig Books, 2017
Editioned work held a special place within the oeuvre and working methods of Sigmar Polke (1941–2010): it represented both a way to conduct intensive variations on unique works, and also to transform identical prints into unique objects by altering the foreground, background, or layering.
His editions—which comprise objects, books, folders, photography, photocopies, collages and prints—and his painting should therefore be understood as symbiotic. Polke's images are products of his world; they reveal the changing society of the postwar years. The banality of everyday life, the aspirations of the middle classes, national and international politics—all of this, Polke placed under a microscope and reconfigured. Featuring approximately 200 works from the collection Kunstraum am Limes, this catalog contains all of the artist's editions.

Foreword by Julia Rust, Claudia Olbricht, Thomas Olbricht. Text by Tereza de Arruda.