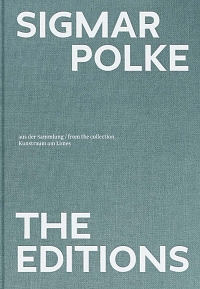 Monograph
First Edition
Softcover
128 pages
Texts in English
New
EUR 35
ORDER
Sigmar Polke, The Editions, Koenig Books, 2017
Editioned work held a special place within the oeuvre and working methods of Sigmar Polke (1941–2010): it represented both a way to conduct intensive variations on unique works, and also to transform identical prints into unique objects by altering the foreground, background, or layering.
His editions—which comprise objects, books, folders, photography, photocopies, collages and prints—and his painting should therefore be understood as symbiotic. Polke's images are products of his world; they reveal the changing society of the postwar years. The banality of everyday life, the aspirations of the middle classes, national and international politics—all of this, Polke placed under a microscope and reconfigured. Featuring approximately 200 works from the collection Kunstraum am Limes, this catalog contains all of the artist's editions.

Foreword by Julia Rust, Claudia Olbricht, Thomas Olbricht. Text by Tereza de Arruda.
Periodical
First Edition
Softcover
117 pages
29 x 21 cm
Texts in Deutsch
Very good condition
EUR 150
ORDER
Friedrich Wolfram Heubach, interfunktionen 8, interfunktionen, 1972
Cover by James Lee Byars, edited by Friedrich Wolfram Heubach. Contains projects by the following contributors: Friedrich Wolfram Heubach, James Lee Byars, Sigmar Polke, Vito Acconci, Dan Graham, Arnulf Rainer, Günter Brus, Bazon Brock, Peter Hutchinson, Richard Budelis, Rebecca Horn, Terry Fox, Roger Welch, Will Insley, Bruce Nauman, John Baldessari, Peter Weibel, Matthias Schäffer.