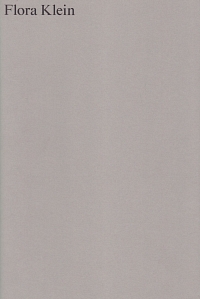 Monograph
Softcover
40 pages
Texts in English
New
EUR 14
ORDER
Flora Klein, Selected Works, Galerie Max Mayer, 2017
Klein's publication contains images of paintings made between 2015 and 2016, and was published on the occasion of her solo show at Galerie Max Mayer in 2016. Text by Chus Martinez.
One could claim that, historically, the role of abstract painting has had a lot to do with the development of consciousness, with understanding that perception is separate from what we actually see, or feel or even "think." In this sense, the consciousness that painting brings about involves a great deal of transformation, of corruption even, of what is real, or what it looks like, or how it reads or smells. Abstract painting today, which is no longer and can no longer be preoccupied with representation, is a way of understanding how—through color, form, and all the substance it creates—the mind produces a new variation of the world in consciousness. In other words, one could say that abstraction is the wildest generalization of all that exists. (…)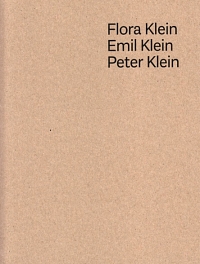 Exhibition catalogue
First edition of 300 copies
Softcover
18 pages
21 x 16 cm
Texts in Deutsch
New
name of the former owner written on the first page,
EUR 16
ORDER
Emil Michael Klein, Flora Klein, Peter Klein, Ausstellung, auto-publié, 2016
Catalogue publié à l'occasion d'une exposion de Flora Klein, Emil Klein et Peter Klein à la Galerie Zur Matze, Kunstverein Oberwallis, Brig, du 9 novembre au 30 novembre 2014.