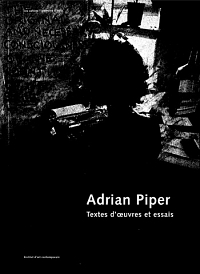 Essays on art , Artists' writings
First Edition
Soft cover, perfect binding
184 pages
Texts in French
Very good condition
EUR 42
ORDER
Adrian Piper, Textes d'oeuvres et essais, Institut d'art contemporain Villeurbanne, 2003
Cette publication, premier recueil de traductions en français d'écrits d'Adrian Piper, est constituée de textes d'oeuvres de la rétrospective Adrian Piper: Depuis 1965 présentée à l'Institut d'art contemporain de Villeurbanne au printemps 2003, et de quatre essais critiques: deux sur la xénophobie, un sur la triple oppression des artistes femmes noires et un sur le modernisme en art; leurs préoccupations étant étroitement liées à la production artistique de Piper, ils veulent servir à éclairer plus largement sa démarche.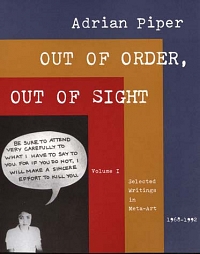 Criticism/Theory
Soft cover, perfect binding
416 pages
Texts in English
New
EUR 35
out of stock
Adrian Piper, Out of Order, Out of Sight, MIT Press, 1999
Adrian Piper joins the ranks of writer-artists who have provided much of the basic and most reliable literature on modern and contemporary art. Out of Order, Out of Sight is an artistic and intellectual autobiography and an (occasionally scathing) commentary on mainstream art, art criticism, and American culture of the last twenty-five years.
Piper is an internationally recognized conceptual artist and the only African American in the early conceptual art movement of the 1960s. The writings in Out of Order, Out of Sight trace the development of her thinking about her artwork and the art world, and her evolving awareness of herself as a creative, racial, and gendered subject situated in an often limiting and always absurd cultural and social context.