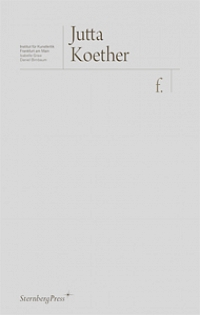 Artists' writings
First Edition
Softcover
130 pages
19 x 12 cm
Texts in English
New
EUR 13
ORDER
Jutta Koether, f., Sternberg Press, 2015
First published in German in 1987, this is artist and writer Jutta Koether's meditation on painting. In novella form, f. follows several disembodied female characters as they consider velvet, coral, the curtain, money, color, red.

These objects, these things, help the narrator and other characters come into being, but it is paintings that embody who the narrator really is: "Even if I'm their hostage when I look at them, I'm not inferior to them. I lie down, stand, or sit in front of them and, in this moment, I'm everything they affect in me." Unlike people, paintings are fixed, explicit with their intentions and challenges—in the end they will still be here, outlasting those who made them or who looked at them. A facsimile of the original German publication is included in this volume.

Edited by Isabelle Graw and Daniel Birnbaum.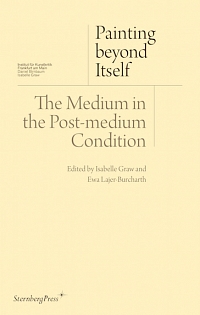 Criticism/Theory
First Edition
Softcover
286 pages
19 x 12 cm
Texts in English
New
EUR 16
ORDER
Isabelle Graw, Ewa Lajer-Burcharth, Painting beyond Itself: The Medium in the Post-medium Condition, Sternberg Press, 2016
In response to recent developments in pictorial practice and critical discourse, Painting beyond Itself: The Medium in the Post-medium Condition seeks new ways to approach and historicize the question of the medium. Reaching back to the earliest theoretical and institutional definitions of painting, this book—based on a conference at Harvard University in 2013—focuses on the changing role of materiality in establishing painting as the privileged practice, discourse, and institution of modernity. Myriad conceptions of the medium and its specificity are explored by an international group of scholars, critics, and artists. Painting beyond Itself is a forum for rich historical, theoretical, and practice-grounded conversation.

Contributions by Carol Armstrong, Benjamin H. D. Buchloh, Sabeth Buchmann, René Démoris, Isabelle Graw, David Joselit, Jutta Koether, Ewa Lajer-Burcharth, Jacqueline Lichtenstein, Julie Mehretu, Matt Saunders, Amy Sillman.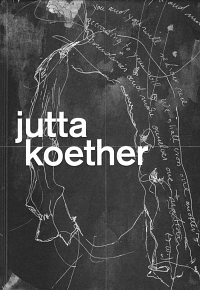 Monograph
First Edition
Hardcover
180 pages
Texts in English / Deutsch
As new
EUR 100
ORDER
Jutta Koether, Kunsthalle Bern, Kölnischer Kunstverein, 2006
This catalogue was published on the occasion of the exhibition Jutta Koether: "Fantasia Colonia", held at Kölnischer Kunstverein, May 27 to August 13, 2006 and at Kunsthalle Bern, January 19 to March 11, 2007.

With texts by Isabelle Graw, Martin Prinzhorn, Diedrich Diederichsen and Micahel Kerkmann; and a conversation between Koether, Sam Lewitt and Eileen Quinlan.