Monograph
First Edition
Softcover
230 pages
Texts in English
New
EUR 45
ORDER
Lili Reynaud Dewar, TEETH GUMS MACHINES FUTURE SOCIETY, Hatje Cantz, 2018
How do we define cultural, social, and emotional identity? What influences their creation? Throughout her entire oeuvre, the French artist Lili Reynaud-Dewar (*1975, La Rochelle) circles these questions, while at the same drawing upon the twentieth century's artistic and social subcultures.

In the conversations the artist conducts with the performers, this publication works through the central themes of her oeuvre. The book also contains excerpts from A Cyborg Manifesto by the feminist Donna Haraway, as well as film stills, photographs of her show and performances in the different exhibition spaces.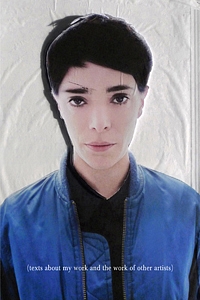 Artist's book, Criticism/Theory
Soft cover, perfect binding
208 pages
23 x 15 cm
Texts in English
New
EUR 18
ORDER
Lili Reynaud Dewar, My epidemic – texts about my work and the work of other artists, Paraguay Press, 2015
My epidemic (texts about my work and the work of other artists) is the first anthology of writings by French artist Lili Reynaud-Dewar. The oldest text in the book dates back to 2003 – but was until now unpublished – whereas the most recent one is still to appear in the forthcoming issue of the art journal May of the summer 2015. The rest of the compendium has been disseminated during the last twelve years between as many exhibition catalogues and magazines editions in France but mostly abroad. They are sometimes essays on fellow artists (Lothar Hempel, François Curlet, Caroline Mesquita, John Smith, among others), exhibitions reviews, scripts from her artist talks, or can even take the form of a treatise on teaching. The provocative variety of subjects and ideas addressed by Reynaud-Dewar in My Epidemic stresses the anti-generalizing approach she's now famous for in her sculpture and installation work, her obsession with how much difference differences make. My epidemic also retraces how her writing style has built up during these twelve years, gaining in visibility and distinctiveness, and it demonstrates the centrality of the role writing has come to play in her artistic practice. This book in this sense reads almost like a biography.
As often the case in her projects, Reynaud Dewar has collaborated with a number of close artist friends and colleagues for this book: Verena Dengler wrote the foreword; Marina Faust created the cover; Ramaya Tegegne designed this volume and inserted two new visual essays of her Bzzz Bzzz Bzzz series within; Paraguay Press published it.