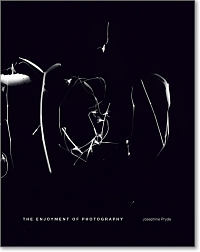 Exhibition catalogue
First Edition
Softcover
275 pages
28 x 22 cm
Texts in English
New
EUR 42
ORDER
Josephine Pryde, The Enjoyment of Photography, JRP|Ringier, 2015
This publication presents a broad selection of Josephine Pryde's work from 1990 to 2014. In photographic works that encompass the full range of the medium's historical and current genres, styles, and techniques, but also through sculpture and writing, the Berlin- and London-based artist (*1967) offers incisive, often ironic, and provocative commentary on the values, hierarchies, and economies subtending the field of contemporary art against the backdrop of larger societal shifts. Estranging the familiar or conversely expressing the common in a radically unforeseen manner, Pryde's ingenuous choice of subject matter, unusual formal solutions and surprising juxtapositions continue to capture international exhibition audiences.
Featuring more than 350 color images, this most comprehensive monograph available on Pryde's work to date appears subsequent to the artist's mid-career survey exhibitions at the Kunstverein für die Rheinlande und Westfalen, Düsseldorf, and at Kunsthalle Bern in 2012.
Bootleg
Staple-bound
95 pages
Texts in English
EUR 15
out of stock
Ramaya Tegegne, Make Your Own Life: Artists In & Out of Cologne, 2014
Bootleg of the catalogue for the 2006 exhibition curated by Bennett Simpson at the ICA Philadelphia, which brought together over twenty-five artists of three generations—centering from Cologne but also including Los Angeles, New York, London, and Berlin—to explore themes of autonomy, artistic collectivity and social relationships, and the privileging of the artist's life and context as a basis for understanding creative practice.
In the 1980s and early-90s, the German city of Cologne was one of the most important centers for contemporary art in Europe, if not the world. With its many galleries, artist run-spaces, and artist bars, the city assumed a kind of mythological dimension, a place where artists came to show, sell, socialize, and distinguish themselves and their work on levels symbolic and real. The open question of how one makes one's art in relation to a set of communities, histories, market conditions and social attitudes was at the core of the Cologne scene. It was fiercely debated, dramatized in exaggerated behavior, art works and exhibitions alike, and it contributed greatly to the impression that Cologne was a place of extreme self-consciousness and audacity.
Featuring Bernadette Corporation, Cosima von Bonin, Merlin Carpenter, Stephan Dillemuth, Michaela Eichwald, Andrea Fraser, Kim Gordon, Charline von Heyl, Gareth James, Mike Kelley, Martin Kippenberger, Jutta Koether, Michael Krebber, Louise Lawler, Hans-Jorg Mayer, Lucy McKenzie, Nils Norman, Albert Oehlen, Christian Philipp Muller, Stephen Prina, Josephine Pryde, Blake Rayne, Reena Spaulings, Josef Strau, Rosemarie Trockel, Filmgruppe West, Christopher Williams, and Christopher Wool, among others.

Bootleg produced on the occasion of Ramaya Tegegne – Respektive at Marbriers 4, Geneva.
Periodical
Softcover
95 pages
30 x 20 cm
Texts in English, German, French
New
EUR 8
ORDER
Pétunia #5, Pétunia, 2013
Each issue of Pétunia is organised around subjective emergencies, not as a exhaustive summation of a subject but as an open, autonomous publication presenting multiple facets on a topic. Pétunia does not affiliate with territorial issues of current matters nor trends. Pétunia does not have chapters nor sections, but diverse textual forms, focusing largely on contemporary art : from theoretical texts to diary entries, to pure fiction or comics. All contributions remain in their original language, without translations.
The family issue:
This issue contains contributions by/about : Cécile Bicler, Liz Cohen, le corps collectif, Natalie Czech, Olivia Dunbar, Dorothée Dupuis, Marina Faust, Claire Guezengar, Sonia Leimer, Sylvère Lotringer, Daria Martin, Kobena Mercer, Eileen Myles, NG, Josephine Pryde, Lisa Robertson, Martina-Sofie Wildberger, Cathy Wilkes.

Edited by Dorothée Dupuis, Lili Reynaud Dewar & Valerie Chartrain.