Exhibition catalogue
First Edition
Hardcover with dust jacket
144 pages
24 x 16 cm
Texts in English
New
EUR 50
out of stock
Fredi Fischli, Niels Olsen, Theater Objects, gta Verlag, 2015
Variously designed stages form the nexus between art and architecture in the exhibition Theater Objects: A Stage for Architecture and Art. They provide theatrical tableaux in which internationally renowned artists and architects present them­ selves in the field of interplay between the two disciplines. Josep Lluís Mateo and Christian Kerez, for example, use the stages to reveal their sources of inspiration, whether books or films, which in turn reflects the format of this exhibition of architecture. The book Theater Objects takes up these ideas and develops them in a large number of contributions.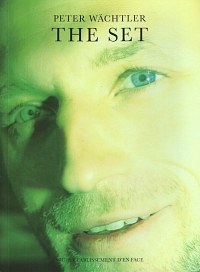 Fiction
First Edition
Softcover
53 pages
23 x 17 cm
Texts in English
New
EUR 14
ORDER
Peter Wächtler, The Set, (SIC), Etablissement d'en face, 2011
The book describes the film set of "Valkyrie", the most recent film on the failed attempt to assassinate Adolf Hitler by leading generals of the German Army in 1944. The main figure in the plot is Claus Schenk Graf von Stauffenberg impersonated by Tom Cruise, which caused a public dispute on his suitability to play the role concerning his Scientology membership, his sunny action image and his somewhat American aura commented by an offended German actor, who was turned down for the main role. Mainly the text depicts four days at the Valkyrie Set in summer 2007 from the perspective of a military extra, meeting colleagues, set hierarchy, stardom and disenchanted freelancing labour.

Born 1979 in Hannover, Peter Wächtler lives and works in Brussels and Berlin.