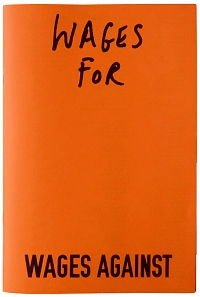 Criticism/Theory
First Edition
Zine
43 pages
Texts in English
New
EUR 5
ORDER
Ramaya Tegegne, WAGES FOR WAGES AGAINST, Kunsthalle Zürich, 2017
"They say it is love. We say it is unwaged work."

WAGES FOR WAGES AGAINST is a campaign that aims for the general payment of artist fees by non-profit art institutions within Switzerland. This publication gathers transcripts of interviews on artist fees conducted by Ramaya Tegegne with Judith Welter, Balthazar Lovay, Bea Schlingelhoff, Harry Burke and Lise Soskolne.

Produced in conjuction with the exhibition Speak, Lokal at Kunsthalle Zürich, March 4 - May 7, 2017.

http://wagesforwagesagainst.org/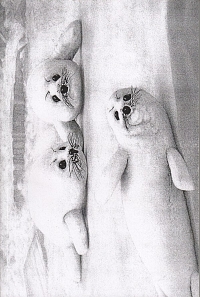 Artist's book
First Edition
Softcover
160 pages
Texts in English
New
EUR 28
out of stock
Ramaya Tegegne, Menage A Trois, Friart, 2015
Menage A Trois is a visual and textual essay composed of more than 140 quotes xeroxed, scanned and laid out to form a long collage of 160 pages. It is subjective anthology, re-publishing sociological, philosophical and historical texts as well as visual art works, reflecting on the ecology of social relationships and artistic communities.
Published on the occasion of Ramaya Tegegne: Somebody in New York Loves Me, at Friart, Fribourg, September 4 to October 25, 2015.
Artist's book, Criticism/Theory
First Edition
Soft cover, perfect binding
140 pages
29 x 21 cm
Texts in English
New
EUR 30
out of stock
Ramaya Tegegne, Bzzz Bzzz Bzzz, Marbriers 4, 2014
Bzzz Bzzz Bzzz is a visual essay looking at groups groups, networks and the phenomenon of gossip in an artistic context from a sociological point of view. Gossip is here understood as a relational model allowing to understand how groups emerge and define themselves through a mutual speculative knowledge and through some kind of difference to an outside. Gossip is considered as a productive virtue capable of creating intimacy, trust and a stimulating network allowing the emergence of common values, convictions and knowledge among the group.
Within the art world, as an informal mode of communication, it also plays a decisive role in the formation of a critical opinion on an artist's reputation: his personality, his work and consequently his career.
Compiled by Ramaya Tegegne on the occasion of her show Respektive at Marbriers 4, May 29 – June 14, 2014.