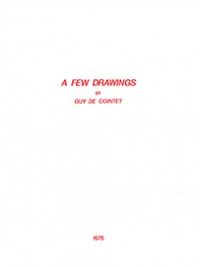 Artist's book, Poetry
Bootleg
Softcover
60 pages
25 x 19 cm
New
EUR 37
ORDER
Guy de Cointet, A Few Drawings, cneai, 2005
Fac-similé du recueil de poésie graphique autoédité par Guy de Cointet en 1975, publié suite à l'exposition « Guy de Cointet / Allen Ruppersberg – A Few Drawings / Mixed Media » à la Galerie Air de Paris en 2006.

Guy de Cointet (né en 1934 à Paris, décédé en 1983 à Los Angeles) est considéré comme l'une des figures clé du mouvement de l'art conceptuel et de l'art de la performance qui ont émergé à Los Angeles dans les années 1970. Son influence sur la scène californienne actuelle est attestée par des artistes tels que Paul McCarthy, Mike Kelley, Allen Ruppersberg ou John Baldessari. La codification, le hiéroglyphe, la typographie représentent chez Cointet, dont l'œuvre est fortement marquée par un intérêt pour les procédés de langage et notamment les techniques d'écriture de Raymond Roussel, un processus d'élaboration du mot mis en image, et de la couleur mise en forme. Ses dessins et livres attestent de son goût du mystère, des langages codés et de la cryptographie. Proche du théâtre et de la poésie sonore et visuelle (ses narrations non linéaires, ses « objets scéniques », véritables « tableaux parlants », et ses croisements entre théâtre, cinéma et danse auront des échos jusque dans les recherches actuelles d'artistes comme Catherine Sullivan), Cointet est l'auteur d'une synthèse entre culture populaire, sources littéraires, surréalisme et art minimal.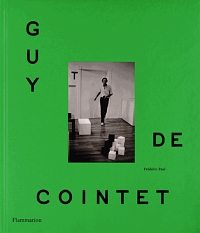 Monograph
First Edition
Hardcover
271 pages
28 x 24 cm
Texts in French
New
EUR 78
ORDER
Frédéric Paul (ed.), Guy de Cointet, Flammarion, 2014
Art critic and PhD in Art History Frédéric Paul revisits the life and work of Guy de Cointet (1934-1983), in a book published by Flammarion in collaboration with the Estate of Guy de Cointet and Air de Paris gallery.
When the artist dies, at age 49, Jack Lang is the Minister for Culture since two years. Living in New York, the artist assist Larry Bell, then moving to Los Angeles, he won't really benefit from the financial windfall of the Mitterrand-era which contributed to the fortune and influence of the Frac. This book contains 300 works: drawings, note-books, relief-paintings, film and video works, and above all the bootleg of the essential journal ACRCIT, intergrally reproduced for the first time. Guy the Cointet used to humbly say about his practice "I am not trying to understand my work. For me, it is a complete mystery."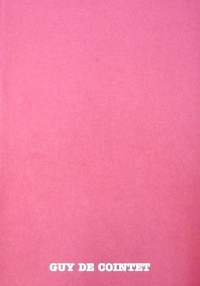 Exhibition catalogue
First Edition
Staple-bound
21 x 15 cm
Texts in French / English
New
EUR 25
ORDER
Guy de Cointet, Magasin, 1996
Small booklet published on the occasion of "And Gravity", an exhibition proposed by Paul McCarthy at Magasin, Centre National d'Art Contemporain de Grenoble, October 19 1996 – January 5 1997, and conceived together with Ron Amstutz.
An homage from Paul McCarthy to these three artists linked to the Californian context of the '70s and '80s: Bas Jan Ader, Guy de Cointet, Wolfgang Stoerchle.