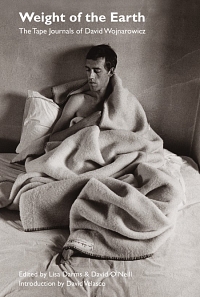 Artists' writings
First Edition
Softcover
184 pages
Texts in English
New
EUR 19
ORDER
David Wojnarowicz, Weight of the Earth. The Tape Journal of David Wojnarowicz, Semiotext(e), 2018
In these moments I hate language. I hate what words are like, I hate the idea of putting these preformed gestures on the tip of my tongue, or through my lips, or through the inside of my mouth, forming sounds to approximate something that's like a cyclone, or something that's like a flood, or something that's like a weather system that's out of control, that's dangerous, or alarming.... It just seems like sounds that have been uttered back and forth maybe now over centuries. And it always boils down to the same meaning within those sounds, unless you're more intense uttering them, or you precede them or accompany them with certain forms of violence.—from The Weight of the Earth
Artist, writer, and activist David Wojnarowicz (1954–1992) was an important figure in the downtown New York art scene. His art was preoccupied with sex, death, violence, and the limitations of language. At the height of the AIDS epidemic, Wojnarowicz began keeping audio journals, returning to a practice he'd begun in his youth.The Weight of the Earth presents transcripts of these tapes, documenting Wojnarowicz's turbulent attempts to understand his anxieties and passions, and tracking his thoughts as they develop in real time.

Edited by Lisa Darms and David O'Neill.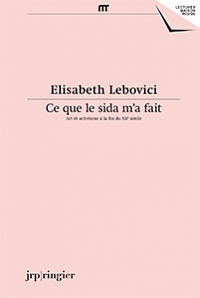 Sexualités, Criticism/Theory
First Edition
Softcover
320 pages
22 x 14 cm
Texts in French
New
EUR 20
ORDER
Elisabeth Lebovici, Ce que le sida m'a fait. Art et activisme à la fin du XXe siècle, JRP|Ringier, 2017
L'historienne et critique d'art revisite, avec sa mémoire de témoin, les liens entre art et activisme durant les « années sida » en France et aux États-Unis. Composé de textes monographiques, d'entretiens et d'essais thématiques, cet ouvrage rédigé à la première personne rend compte d'une créativité artistique et activiste née de l'urgence de vivre et du combat pour la reconnaissance de tous·tes.
Restituer la parole des ami·e·s de lutte, articuler les « je » et « nous » d'alors et d'aujourd'hui, faire retour sur des faits et affects peu connus du public français, analyser l'« épidémie de la représentation » consécutif à l'apparition du sida : telle est l'entreprise de cet ouvrage, conçu par Elisabeth Lebovici comme un véritable « discours de la méthode » où, toujours, le personnel est politique, le public et le privé s'intriquent. Engagée aux côtés des activistes français et américains de la lutte contre le sida, observatrice privilégiée, en tant qu'historienne de l'art et journaliste, des débats et enjeux des années 1980 et 1990, l'auteure analyse ce moment charnière des liens entre art et activisme, qu'elle revisite avec sa mémoire de témoin, en survivante affectée.
Ce volume propose ainsi, dans un va-et-vient constant entre les États-Unis et la France, une cosmologie élective : ACT UP, les « arbres téléphoniques », Richard Baquié, Gregg Bordowitz, Alain Buffard, Douglas Crimp, les « enterrements politiques », General Idea, Nan Goldin, Félix González-Torres, Gran Fury, L'Hiver de l'amour, Roni Horn, Eve Kosofsky Sedgwick, Zoe Leonard, Mark Morrisroe, William Ollander, le « Patchwork de noms », The Real Estate Show, Lionel Soukaz, Philippe Thomas, Georges Tony Stoll, Paul Vecchiali, David Wojnarowicz, Dana Wyse, les zaps, etc.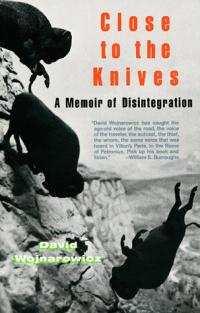 Criticism/Theory
First Edition
Paperback
288 pages
Texts in English
New
EUR 21
out of stock
David Wojnarowicz, Close to the Knives: A Memoir of Disintegration, Vintage, 1991
In Close to the Knives, David Wojnarowicz gives us an important and timely document: a collection of creative essays -- a scathing, sexy, sublimely humorous and honest personal testimony to the "Fear of Diversity in America." From the author's violent childhood in suburbia to eventual homelessness on the streets and piers of New York City, to recognition as one of the most provocative artists of his generation -- Close to the Knives is his powerful and iconoclastic memoir. Street life, drugs, art and nature, family, AIDS, politics, friendship and acceptance: Wojnarowicz challenges us to examine our lives -- politically, socially, emotionally, and aesthetically.