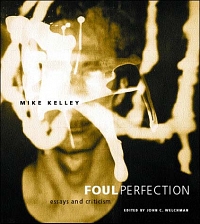 Criticism/Theory
First Edition
Softcover
208 pages
Texts in English
New
EUR 34
out of stock
Mike Kelley, Foul Perfection: Essays and Criticism, MIT Press, 2003
This book offers a diverse collection of Kelley's writings from the last twenty-five years. It contains major critical texts on art, film, and the wider culture, including his piece on the aesthetic he calls "urban Gothic." It also contains essays, mostly commissioned for exhibition catalogs and journals, on the artists and groups David Askevold, Öyvind Fahlström, Douglas Huebler, John Miller, Survival Research Laboratories, and Paul Thek, among others. Kelley's voices are passionate, analytic, and ironic, and his critical intelligence is leavened with touches of whimsy.
First Edition
Softcover
64 pages
Texts in English
New
EUR 30
out of stock
John Miller, Mike Kelley, A.R.T. Press, 1993
Mike Kelley interviewed by John Miller.

Mike Kelley's iconoclastic artwork assails the sunshine fantasy of the "normal" family. In an extended and intelligent interview profusely illustrated with performance stills, reproductions, and installation shots, Kelley discusses the development of his work, his interest in pop culture, and the influence of crafts on his work.