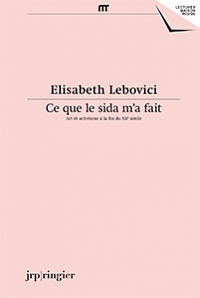 Sexualités, Criticism/Theory
First Edition
Softcover
320 pages
22 x 14 cm
Texts in French
New
EUR 20
ORDER
Elisabeth Lebovici, Ce que le sida m'a fait. Art et activisme à la fin du XXe siècle, JRP|Ringier, 2017
L'historienne et critique d'art revisite, avec sa mémoire de témoin, les liens entre art et activisme durant les « années sida » en France et aux États-Unis. Composé de textes monographiques, d'entretiens et d'essais thématiques, cet ouvrage rédigé à la première personne rend compte d'une créativité artistique et activiste née de l'urgence de vivre et du combat pour la reconnaissance de tous·tes.
Restituer la parole des ami·e·s de lutte, articuler les « je » et « nous » d'alors et d'aujourd'hui, faire retour sur des faits et affects peu connus du public français, analyser l'« épidémie de la représentation » consécutif à l'apparition du sida : telle est l'entreprise de cet ouvrage, conçu par Elisabeth Lebovici comme un véritable « discours de la méthode » où, toujours, le personnel est politique, le public et le privé s'intriquent. Engagée aux côtés des activistes français et américains de la lutte contre le sida, observatrice privilégiée, en tant qu'historienne de l'art et journaliste, des débats et enjeux des années 1980 et 1990, l'auteure analyse ce moment charnière des liens entre art et activisme, qu'elle revisite avec sa mémoire de témoin, en survivante affectée.
Ce volume propose ainsi, dans un va-et-vient constant entre les États-Unis et la France, une cosmologie élective : ACT UP, les « arbres téléphoniques », Richard Baquié, Gregg Bordowitz, Alain Buffard, Douglas Crimp, les « enterrements politiques », General Idea, Nan Goldin, Félix González-Torres, Gran Fury, L'Hiver de l'amour, Roni Horn, Eve Kosofsky Sedgwick, Zoe Leonard, Mark Morrisroe, William Ollander, le « Patchwork de noms », The Real Estate Show, Lionel Soukaz, Philippe Thomas, Georges Tony Stoll, Paul Vecchiali, David Wojnarowicz, Dana Wyse, les zaps, etc.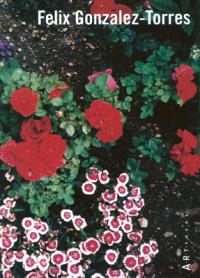 Monograph
First Edition
Soft cover, perfect binding
160 pages
Texts in English
New
EUR 45
out of stock
Felix Gonzales-Torres, Felix Gonzales–Torres, A.R.T. Press, 1994
Interviewed by Tim Rollins, essays by Susan Cahan and Jan Avgikos
Felix Gonzales-Torres is best known for installations and public artworks that invite the viewer's direct participation. In this interview Gonzales-Torres talks about his commitment to social change and his understanding of his role as an artist in effecting that change.
Gonzalez-Torres: "I wanted to make a show that would disappear completely. It had a lot to do with disappearance and learning. It was also about trying to be a threat to the art-marketing system, and also, to be really honest, it was about being generous to a certain extent. […] Freud said that we rehearse our fears in order to lessen them. In a way this "letting go" of the work – this refusal to make a static form, a monolithic sculpture, in favor of a disappearing, changing, unstable, and fragile form – was an attempt on my part to rehearse my fears of having Ross disappear day by day right in front of my eyes."