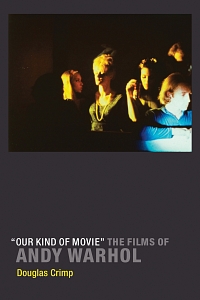 Criticism/Theory
Softcover
192 pages
Texts in English
New
EUR 18
ORDER
Douglas Crimp, Our Kind of Movie: The Films of Andy Warhol, MIT Press, 2012
"We didn't think of our movies as underground or commercial or art or porn; they were a little of all of those, but ultimately they were just 'our kind of movie.'"
—Andy Warhol
Andy Warhol was a remarkably prolific filmmaker, creating more than 100 movies and nearly 500 of the film portraits known as Screen Tests. And yet relatively little has been written about this body of work. Warhol withdrew his films from circulation in the early 1970s and it was only after his death in 1987 that they began to be restored and shown again. With Our Kind of Movie Douglas Crimp offers the first single-authored book about the full range of Andy Warhol's films in forty years—and the first since the films were put back into circulation.
In six essays, Crimp examines individual films, including Blow Job, Screen Test No. 2, and Warhol's cinematic masterpiece The Chelsea Girls (perhaps the most commercially successful avant-garde film of all time), as well as groups of films related thematically or otherwise—films of seductions in confined places, films with scenarios by Ridiculous Theater playwright Ronald Tavel. Crimp argues that Warhol's films make visible new, queer forms of sociality. Crimp does not view these films as cinéma-vérité documents of Warhol's milieu, or as camera-abetted voyeurism, but rather as exemplifying Warhol's inventive cinema techniques, his collaborative working methods, and his superstars' unique capabilities. Thus, if Warhol makes visible new social relations, Crimp writes, that visibility is inextricable from his making a new kind of cinema.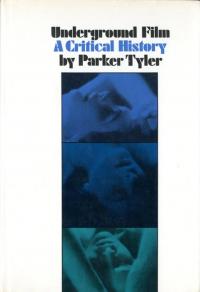 Criticism/Theory
First Edition
Paperback
250 pages
Texts in English
Normal used condition
name of the former owner written on the first page,
o/w Fine
EUR 15
out of stock
Parker Tyler, Underground Film: A Critical History, Grove Press, 1969
Parker Tyler was the first critic to write seriously about the early Underground film makers, especially about Stan Brakhage, Sidney Peterson, Gregory Markopoulos, Willard Maas and Maya Deren. Here he assesses their work along with that of Kenneth Anger, Ed Emshwiller, Ron Rice, Peter Kubelka, James Whitney, Stan VanDerBeek, Andy Warhol, Bruce Conner, Paul Sharits, Charles Boultenhouse, and other filmmakers. Discussing the specific films, he shows the variety of current aims and techniques, and traces their origins in Dada and Surrealism and in the classic of Buñuel, Cocteau, René Clair, Eisenstein, and Wiene. He assumes that critical values provide the true key for judging film achievement, and as a result, in this book Underground Film criticism attains a new dimension.